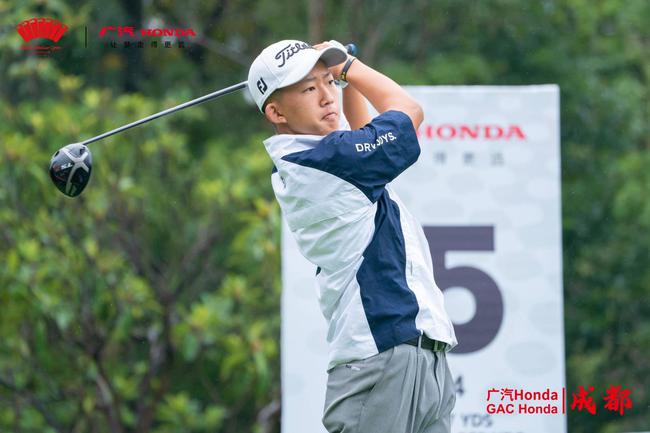 September 25, Beijing time, not long ago, Bryson De Chambeau became the champion with the longest serving distance and the lowest accuracy in the history of the U.S. Open at the Wing Foot Golf Club, a classic American course.
北京时间9月25日(不久前),布赖森·德尚博(Bryson De Chambeau)在美国公开赛的翼足高尔夫俱乐部(Wing Foot Golf Club)上以美国历史上最长的发球距离和最低的准确性成为冠军。
   After the epidemic, his size changed drastically, he gained 40 pounds, and for a while, he became the most discussed player in the golf circle. Many American football critics are analyzing the impact of his deviating from tradition to achieve his first Grand Slam victory, both in the short term and in the long term.
流行之后,他的体型发生了巨大变化,体重增加了40磅,有一段时间,他成为高尔夫球界讨论最多的球员。许多美式足球批评家都在短期和长期内分析他偏离传统对取得首个大满贯胜利的影响。
   Then has his influence spread to China on the other side of the Pacific? The reporter interviewed several potential amateur players at the Chengdu Station of the China Amateur Open held at the Chengdu Poly Lafite Golf Club.
那么他的影响力是否已经传播到了太平洋另一端的中国?记者在成都保利拉菲高尔夫俱乐部举行的中国业余公开赛成都站采访了几位潜在的业余选手。
   First of all, they all know this new trend in golf.
首先,他们都知道高尔夫这一新趋势。
   Tong Yang, a 16-year-old boy who has lived in Shenzhen for a long time, shot a minimum of 64 on Friday, and finally won the runner-up in the first national golf tournament after the Sichuan epidemic. He weighs 62 kg and serves between 280 and 290 yards.
16岁的童扬(Tong Yang)在深圳生活了很长一段时间,周五打了至少64杆,并最终在四川大流行之后的第一届全国高尔夫锦标赛中获得亚军。他重62公斤,服役时间在280至290码之间。
"I will definitely get fit, but I won't be as exaggerated as he (De Chambeau). After all, it is difficult to gain so much weight," Tong Yang said, "Physical fitness is very important, not just distance, but also increase you Stability."
Tong Yang说:"我一定会健康,但我不会像他(De Chambeau)那样夸张。毕竟,很难增加这么多体重,身体健康非常重要,而不仅仅是距离,还能提高您的稳定性。"
   Ding Wenyi is about to turn 16 years old, also from Beijing, he relied on his super stable performance-54 holes only a bogey-and finally led Tong Yang by 5 strokes and won the victory in Chengdu. This is his second race after the epidemic. He was runner-up in the China Amateur Championship held at the Southeast Mountain in the last stop after Bloomberg, a student of Washington University.
丁文义即将年满16岁,同样来自北京,他依靠自己的超稳定表现-仅柏忌赢得54洞-最终以5杆领先童阳,并在成都赢得了胜利。这是他继流行病之后的第二场比赛。在华盛顿大学的学生彭博社(Bloomberg)之后的最后一站,他在东南山举行的中国业余锦标赛上获得亚军。
   Ding Wenyi has reached 190 centimeters in height, weighs 80 kilograms, and serves between 280 and 290 yards. He believes that distance is his current shortcoming, and he admits that he rarely practices physical fitness. For De Chambeau, he obviously still holds a certain skepticism.
丁文义身高已达190厘米,体重80公斤,体重在280至290码之间。他认为距离是他目前的缺点,并且他承认自己很少锻炼身体。对于德尚博,他显然仍然持有一定的怀疑态度。
"De Chambeau, we don't know him, we don't know what kind of person he is." Ding Wenyi said, "But from the report, he is not a'normal person.' You know, no one has All the clubs are adjusted to the same length, and then I think it can be played well. His (golf) knowledge must be very rich. He has his own ideas. But at the professional level, everyone has their own style. You see Wolf His moves are so strange, but they still play well. I think golf does not really matter how the moves are. The key is to have good results. Find the method that suits you best."
"德尚博,我们不认识他,我们不知道他是什么样的人。"丁文义说:"但是,从报告来看,他不是一个'正常人'。"要知道,没有人将所有的球杆都调整到相同的长度,然后我认为它可以打得很好,他的(高尔夫)知识必定非常丰富,他有自己的想法,但在职业水平上,每个人都有自己的风格。您会看到Wolf的举动很奇怪,但仍然打得很好。我认为高尔夫对举动的影响并不重要。关键是取得好成绩。找到最适合您的方法。"
   Compared with Tong Yang and Ding Wenyi, Hong Kong guy Yu Yanhao is obviously more mature and has a better understanding of the current situation of American golf. He has been studying at the University of Oregon for two years. At the age of 20, he is ready to take a career path in the future. When it comes to De Chambeau, he prefers to compare with another person. Colin Morikawa is another Grand Slam this year: the champion of the US PGA Championship, and Yu Yanhao has played with him.
与童扬和丁文义相比,香港人于延浩显然更加成熟,并且对美国高尔夫的现状有了更好的了解。他在俄勒冈大学学习了两年。在20岁的时候,他已经准备好走上未来的职业道路。说到德尚博,他更喜欢和另一个人比较。森川(Colin Morikawa)是今年的又一个大满贯赛事:美国PGA锦标赛冠军,而于彦浩(Yan Yanhao)也与他一起比赛。
"In my freshman year, I played two games with Morikawa. I know how his ball is," Yu Yanhao said. "He is the exact opposite of De Chambord. He is very stable, very straight, and very mature. In fact, De Chambeau also said that everyone's strengths are different, you only need to strengthen your strengths."
于彦浩说:"在我大一的时候,我和森川一起打了两场比赛。我知道他的球是怎么回事。" "他与De Chambord完全相反。他非常稳定,非常直率和非常成熟。事实上,De Chambeau还说每个人的长处都不相同,您只需要增强自己的长处即可。"
   Even so, Yu Yanhao still admits that De Chambeau is changing some of his thoughts, although his driving distance has reached 310 to 320 yards, even in the professional circle is enough.
即使如此,于延浩仍然承认德尚博正在改变他的一些想法,尽管他的开车距离已经达到了310至320码,即使在职业圈子里也足够了。
"I feel that the future of golf will develop in this direction. Physical fitness, nutrition, these are always improving, so in the future, there will be more people who hit long distances, and there will be more players like De Chambord with the long hitting king type. In fact. I have been talking with my friends about this matter recently, how will golf develop in the future..." Yu Yanhao said, "He must have given me a different idea. I didn't pay much attention to physical fitness and diet before, but recently, I I pay more attention to these aspects. It does not necessarily mean that De Chambeau will be as strong. He is a bit too exaggerated, but I think it will be very disadvantageous to have no distance in the future. A distance like me is considered middle and upper in China, but in The United States is very common. Now players who play together are basically 300 yards or more."
"我认为高尔夫的未来将朝着这个方向发展。身体健康,营养水平一直在提高,因此在将来,会有更多的人打长途球,并且会有更多像De Chambord这样的球员长期以来我一直在与国王打交道。事实上,我最近一直在和我的朋友谈论这个问题,未来高尔夫将如何发展……"于彦浩说,"他一定给了我一个不同的想法。我没有付钱之前,我非常注重身体健康和饮食,但是最近,我更注重这些方面,这并不一定意味着德尚博会变得更强壮,他有点过于夸张,但是我认为拥有这将是非常不利的。将来没有距离。在中国,像我这样的距离被认为是中上距离,但在美国非常普遍。现在一起比赛的球员基本上都在300码以上。"
   Finally, I need to say a digression. There is a Chongqing teenager in the Chengdu Station of the China Amateur Open, which is particularly eye-catching. His name is Tang Haizhao. Although he was only fifth, considering that he was only 13 years old, he was really amazing just in his first year of junior high.
最后,我需要说题外话。中国业余公开赛成都站有一个重庆少年,这尤其引人注目。他的名字叫唐海钊。尽管他仅yobo体育app官方下载五岁,但考虑到他只有13岁,但就在他初中的第一年,他的表现确实很棒。
   "I heard that he just graduated from elementary school," Ding Wen said with a smile.
丁文笑着说:"我听说他刚从小学毕业。"
   And the reason why Tang Haizhao is competitive when playing with his big brothers is that his driving distance reached 290 yards...
唐海钊与大哥们比赛时具有竞争力的原因是他的开车距离达到了290码...
   "I fought with him for a day, and he is really far away," Tong Yang said.
童扬说:"我和他战斗了一天,他yobo体育app官方下载真的很远。"
  Far, it must be the hottest word in the golf circle now!
到目前为止,它一定是高尔夫界最热门的单词!
(breeze)
(微风)